Trombone lessons
Would you like to learn to play the trombone? Or play together with your trombone in a band, orchestra or ensemble? Take trombone lessons at VRIJDAG! Check out our trombone lessons or sign up for a free trial lesson.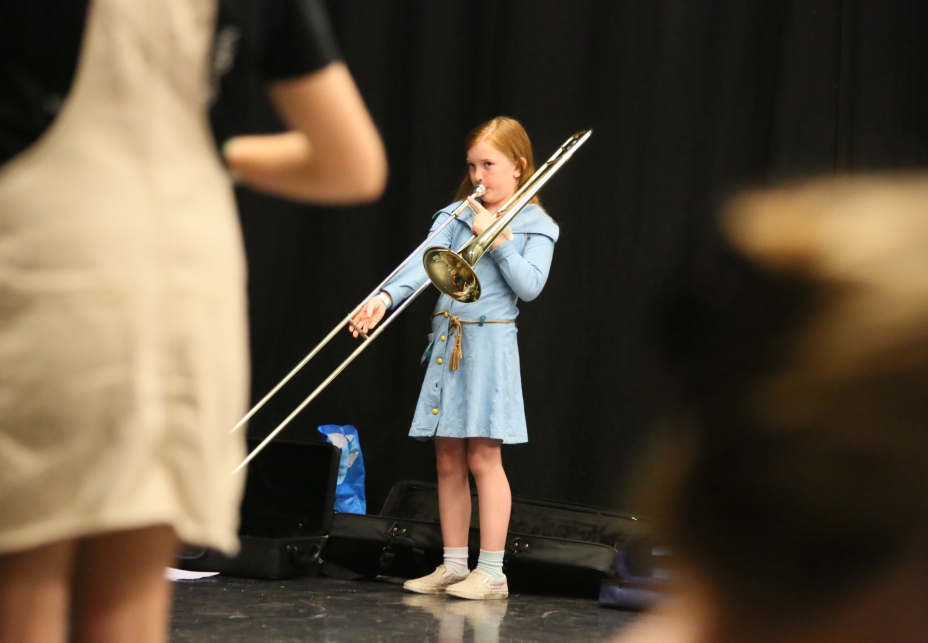 Trombone lessons in Groningen
For all ages and levels
The trombone looks like a large trumpet and can be recognised by its long slide. As almost the only brass instrument, the trombone can do something special, namely make beautiful gliding notes (glissando). You do this by pushing or pulling the slide from one position to another, without stopping blowing. This shortens or extends the tube length, thus changing the pitch. Partly because of this, the trombone is suitable for many styles of music. The instrument therefore feels at home everywhere; in jazz and pop, but also in classical music, a brass band or harmony orchestra.
At VRIJDAG you can take trombone lessons on your own or in a group. You will be taught by an experienced teacher who regularly plays the trombone in performances and concerts. So you learn the intricacies of trombone playing from real performing musicians! There are trombone lessons for all ages and all levels. And whether you choose individual trombone lessons or want to play in a jazz combo; there is always a course for you.
VRIJDAG has many bands, ensembles, choirs and orchestras you can join with your trombone. Making music together with others is not only very sociable, but also educational. You are challenged to listen to each other and to dare to play solo. If you do not have a trombone of your own, you can hire one from us. A non-obligation free trial lesson can be arranged. Will we see you soon as a new student at our trombone lessons in Groningen?